TACTICAL ANALYSIS FC BARCELONA VS. REAL MADRID
May 14, 2018, 4:52 p.m.
Despite none of the teams had anything to lose in this league, last Saturday's match left us with lots of interesting plays to do tactical analyses and draw some important conclusions about the match. Both teams fought hard over possession, with Barça controlling the ball 51% of the time while Madrid had a solid 49%. Both teams showed off their effectiveness, succeeding in 90% of their passes.
There were no surprises in the first eleven players chosen by Ernesto Valverde and Zinedine Zidane. The FC Barcelona played with the usual players, going for a regular 1-4-4-2. Real Madrid, after their classification to the Champions League's final, made some changes in their initial eleven and went for a 1-4-3-3 with the BBC, playing together again after a long time.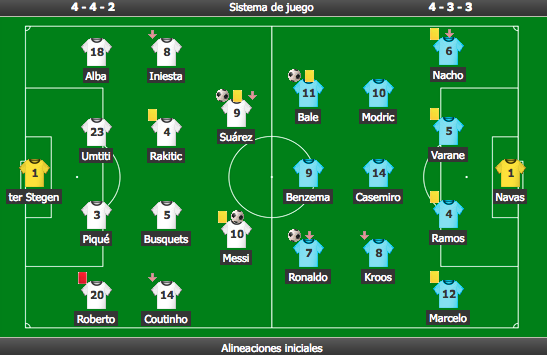 OFENSIVE PHASE REAL MADRID

Madrid was looking to alternate a combined game with lots of help to overcome Barça's high pressure. They were trying to find their superiority on the inside and between lines, to get over Barça midfielders' pressure (Rakitic and Busquets). This is when Benzema appears, taking over the lines, mainly with Kroos' and Modric's help.
Barça closed the spaces one the side, trying to stop Real Madrid's superiority. This made the Barça lose control over their soft spots, and this is where the Real Madrid found the space, looking for orientation shiftsand occupying exterior lanes, especially with the depth provided by Marcelo on the left side.

With time, this control continued increasing mainly because Barça lost a player and, as a consequence, had a hard time trying to stop Madrid's offensive actions. At this point, Zidane decided to increase his lateral defenders' depth, mostly with the entrance of Lucas Vázquez on the right side. Wingers were placed in lateral zones, looking to move center-fielders out of their zone (as we saw on the tie, with Bale's goal) and also creating a 2 against 1, with lateral Barça's defenders.
OFENSIVE PHASE FC BARCELONA
Barça started out controlling the game, but they lost control throughout the match and more so when they lost a player. Their attacks became vertical transitions, looking for the incursion into open spaces.
Barça had two clear ideas for their attack:
1)Messi tried to fall between lines next to Real Madrid midfielders, forcing them to get out of their center zone, to then attack the space usually left by Sergio Ramos.
2) They also looked for attacking Marcelo's back, creating superiority on that side.

DEFFENSIVE PHASE REAL MADRID
Madrid was displayed in a 1-4-3-3, alternating moments of pressure in high blocks with moments where they became withdrawn. They suffered more when they put pressure on the top, with certain incoordination and, above all, getting Marcelo out of his zone, defending Sergi Roberto. When they stayed together on the middle field, they made the game more difficult for the Barça, mainly covering the central zone of the field.
DEFENSIVE PHASE FC BARCELONA
They were displayed in a 1-4-4-2, putting high pressure as they normally do in their defensive phase. Midfielders Rakitic and Busquets went out to put pressure on Madrid's midfielders from the top, placing the pressure on one side, to make it harder for the Real Madrid to clear the ball comfortably.