TACTICAL ANALYSIS COPA DEL REY: FC BARCELONA-SEVILLA FC
May 4, 2018, 11:10 a.m.
Last Saturday's match ended with a great victory for the FC Barcelona. The 'Blaugranas' had a total control over the match, with a 62% of the ball possession and were effective in passing the ball 92% of the times.
There were very few surprises in the teams' alignments: both teams sent their usual players to the field and displayed the same structure they used all along the season.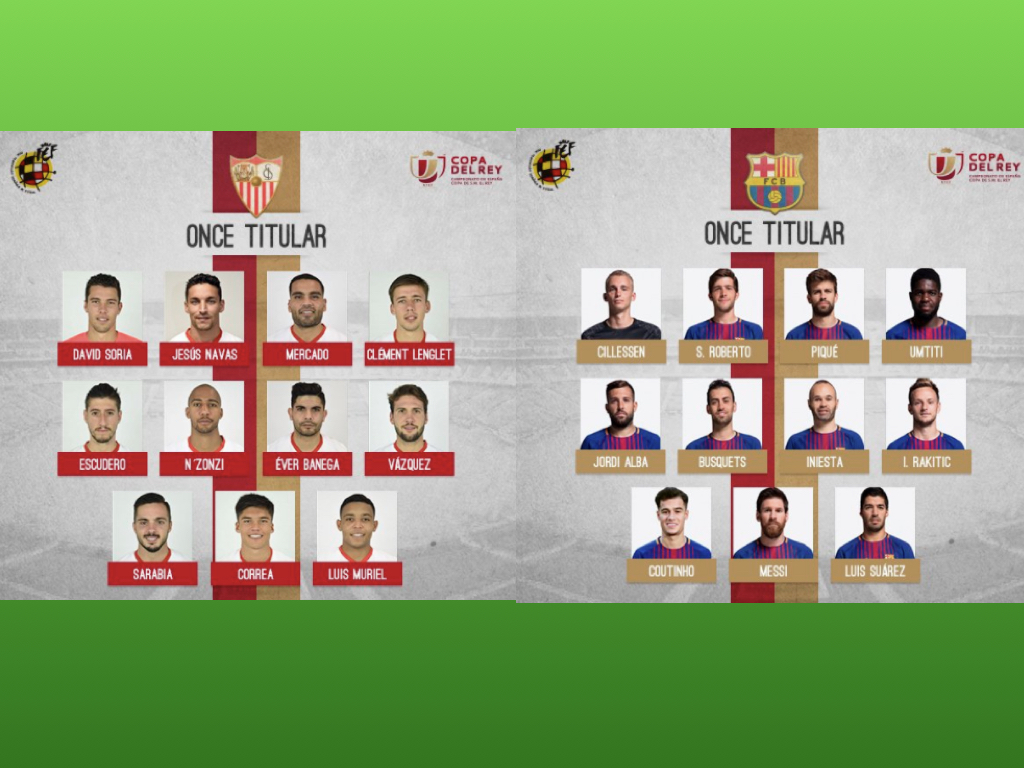 In our tactical analysis, we can see how the Sevilla started the match looking to put a great amount of pressure on the rival's field, given the excellent results the Roma got in the Champions Leaguequarter finals. However, Sevilla was facing a different Barça, much more inspired than in the previous match. Moreover, Valverde decided to use Coutinho, giving the team much more deepness and speed. When Sevilla stared pressuring Barcelona, and after Barça's first goal, Valverde's players controlled the game, inspired by an awesome Lionel Messi and a fantastic Andrés Iniesta. You could feel the danger every time Barcelona approached the rival goal while Sevilla's defenders suffered to keep down the attack.
OFFENSIVE PHASE
To fight the 1-4-4-2 set out by Sevilla, the first tactical instruction given by Valverde was to place Sergio Busquets between central defenders so they would outnumber them 3 to 2, and at the same time, Barça would leave a free defender with enough space to move forward and pass the ball. From that starting point, Barça was able to lay out a match with both their left and right backs going deep and hurting Sevilla with Iniesta and Messi, who came down to receive.
Iniesta's and Messi's freedom to move always translated into danger, especially when they received the ball next to the midfielders, in that space left clear between them and the wingers. Barcelona does a great job drawing rival players from the sides to end up cross-passing the ball. In these situations, Luis Suárez is also very important because, without actively playing the ball, he contains the rival defense to keep them from blocking Barça's lines.

Barça's two playmakers, Suárez and Messi, are a permanent danger to their rival's defense. They always move on opposite directions: when Suárez receives, Messi places himself near Suárez back. When Messi receives, Suárez unmarks drawing Sevilla's two centrals and leaving open spaces for Messi to move forward. These two players understand each other and really know how to take advantage of clear spaces. They also have a great collective sense since they always keep the team's best interest in mind.

OFFENSIVE TRANSITION
Barça might not be the fastest European team when attacking, but their players sure master the art of timing- so important to take advantage of their rival's mistakes. Here we have to mention Leo Messi again, a player who's been always the reference for these plays. When Barcelona recovers the ball and transitions to offensive phase, the ball always touches Messi's feet due to his tremendous technical qualities and his great timing.
DEFENSIVE PHASE
During the season, Barça has demonstrated just how important their defensive system is: all Barça's players participate in defending their team.
For this match, one of the most important items in Barcelona's defense "to do list" was keeping Sevilla from connecting with N'Zonzi and Banega. To achieve this, Busquets and Rakitic were always blocking Sevilla's midfielders. Messi and Suárez were also very attentive so Sevilla's centerfielders couldn't pass the ball comfortably.
DEFENSIVE TRANSITIONS
Having possession of the ball in rival territory allowed Barça's players to locate themselves in strategic places and put pressure to recover the ball right after losing it or forcing Sevilla to fail their passes. Players far from the ball was also had a key role: on the one hand, some of them kept the Sevilla from playing back to their own field to reorganize their game. On the other, Barça's centerfields were always watching over Sevilla's distant players.
As we can see, Barcelona dominated the game and won this match fair and square by an ample victory (5 – 0). Barça is still the team that has won the Copa del Rey more times, with 30 titles and their 4thconsecutive cup.
Barça has become the indisputable leader in this competition and every year the team makes the effort to go home with their title.