Interview with José Corbacho, Football Coach and Analyst in Sevilla
June 20, 2018, 2:35 p.m.
1 How did you decide to become a coach and an analyst?
Well, my trajectory as a coach started out years ago, once I'd finished playing for the junior teams -I was 19. I then started to coach a team in my neighbourhood because I felt more motivated by coaching than by being coached.
I started as an analyst once I finished my coaching courses. It was encouraging to learn about analysing rivals, your own team, and I started signing up for courses that could complement what I already knew. I'm continually recycling my self, trying to stay up to date either with online courses, face to face courses or reading about this topic.
2 Today you're working with Sevilla's Female Football Club, could you describe a common day?
Our weekly planning is set around the day we watch the video on our next rival. Normally, around Wednesday we deliver the report to the Coach so, for at least one day, the team trains focusing on certain parameters we found in the rival.
Then we start collecting data on our rival -we use the press, social media, videos...
Wednesday, Thursdays and Fridays we analyse our rival through their previous games. We complete the report when the rival has already played their last match -and before they play with us (Saturday or Sunday).
Monday and Tuesday we go back on what we have analysed in case there are any last-minute changes, such as a sanction.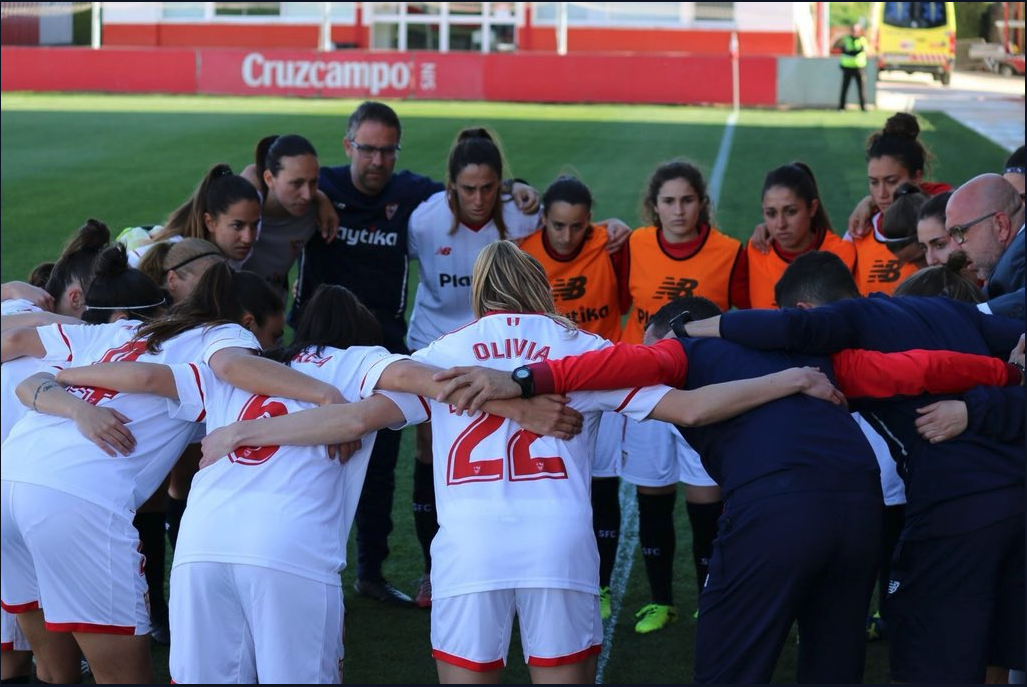 3 How important is the analysis for your team?
Knowing your rival, their virtues and weaknesses allows you to adapt certain parameters in your playing style -so you can fight and neutralize your opponent.
4 What are the most important things to keep in mind when analysing a team?
First, detecting their playing style, either if it's direct or combinative. Second, what are the reference players that display such a style -for instance, in a direct match, if the forward receives the ball or, in a combinative style, who is the midfielder who passes the ball. These would be some aspects, but they are all important, even set pieces.
5 More often than not, set pieces are determinant for results, what would you say is key to succeed in set pieces?
As you can see in this World Cup, many goals were scored with set pieces, completely changing the course of the match.
There are many things we must take into consideration when analysing set pieces, such as the shooter, the shoot it self, goal kicks…
6 What would you say is the current state of the female football in Spain? Is there still room for improvement?
Numbers are very positive because now we have a strong sponsor in the female league. Plus, matches are being live-broadcasted.
The room for improvement is very ample, because we have more and more resources and we are in the process of getting rid of prejudices that hurt this sport in the past.
7 Do you think that the role of the Analyst is given enough credit within the technical team? Is there still room for improvement?
Technical teams are getting more and more specialzed, and their structures are more fragmented. That's why you have the Analyst, these roles are completely centred on making reports for the technical teams.
These analyst have become so relevant that, in many clubs, you not only find one analyst, but the analyst for the rival, the analyst for the team, the analyst for the training sessions... Our job is becoming more and more important.
8 What do you like the most about LongMatch?
I'd say it's a very practical tool, easy to understand. At the same time, it's very useful to optimise players performance through analyses.
LongoMatch is a must-have tool that allows you to get detailed information about the rival team so the players adapt their style and be ready to play the next match.